The Golden Century Concert will feature performances by Madame Lien and several generations of her students including world famous pianist Dang Thai Son. Madame Lien turned 99 on August 4.

The concert is a tribute to Madame Lien, Dr Le Anh Tuan, VNAM Director said at a recent press conference.

"Madame Lien is not just one of the conservatory's founders, she is also the teacher of many piano teachers and pianists. The concert will also be a milestone of the VNAM's development."

Madame Lien was the only woman among the seven musicians to set up Vietnam's first music school in 1956. She was also dean of the Piano Deparment until she retired in 1977. During 20 years of service, most of it at a time of war, Madame Lien taught piano, wrote textbooks and curriculums and her work was to train the first Vietnamese pianists.

Many of her students have become established pianists like Nguyen Huu Tuan, Hoang My, Phuong Chi and her son Dang Thai Son. Son became the first Asian to win first prize at the International Chopin Piano Competition in Warsaw in 1980.

Born to an upper class family in Sai Gon, Madame Lien began to play piano at 4 and studied with French pianist Armande Caron when she was 11. Caron's teacher was Isidore Phillip who won the first piano prize at Paris Conservatoire in 1883. Phillip's teacher was Georges Mathias — a student of Chopin.
An excellent student at 16, Madame Lien made her public debut at the Sai Gon City Hall. She studied with professor Ema Dolezalova at the Prague Conservatoire and performed masterpieces by D. Scarlatti, Bach, Beethoven and B. Smetana for her graduation.
She then followed her husband home to Vietnam, to the revolutionary base in Viet Bac and worked with the Central Art Troupe. After the historic Dien Bien Phu victory in 1954, she joined a troupe that went to Shanghai to record music pieces for airing on national radio for the handing over of Hanoi by the defeated French regime the same year.
Madame Lien's career, which has spanned two centuries, has been marked by numerous piano concerts, several of which are national milestones. She was the first Vietnamese musician to perform piano recitals in Hanoi in the late 1950s and to play it in concerts with Russian musicians.
Her album Folk Songs from Vietnam, released by the Supraphon label in the former Czechoslovakia with Vietnamese singer Minh Do was the first vinyl record cut in Vietnam.

It has been nearly 50 years since Madame Lien's "farewell concert."

She will make an amazing comeback at the Golden Century Concert at VNAM's Great Hall, playing No4 and No2 of Mazurkas by Chopin. The composer's pieces have been selected from her repertoire of favourites. The performance will mark a nostalgic return to her prime years in Sài Gòn, where she first encountered Chopin's music.

"My mother has played the pieces many times and she chooses them because of their contrasting styles," said Tran Thanh Binh, Madame Lien's elder son, who spoke at the press conference.

"Despite her old age she decided by herself the pieces she wanted to play at the concert. Our family helped her make the final choice."

Her performances will open the concert, which has two parts. The first part includes performances by her students, Professor and People's Artist Tran Thu Ha, Meritorious Artist Tran Tuyet Minh, Emeritus Teacher Hoang Kim Dung and pianist Dan Thu Nga.

The second part will feature solo performances by pianist Son, a present from the maestro to his mother.
Concert goers will also have a chance to see the trailer of an unfinished documentary, The Cannon and The Flower, by Emmy-winning Story4 Studio.

"The Cannon and The Flower includes some scenes from Vietnamese documentary We Study Piano by Thanh An. The filmmakers want to record the upcoming concert as the final scenes of the documentary," Binh said.

On this special occasion, VNAM will launch two books: Piano Curriculum by Madame Lien and Memories of A Teacher by Madame Lien's students from different generations.-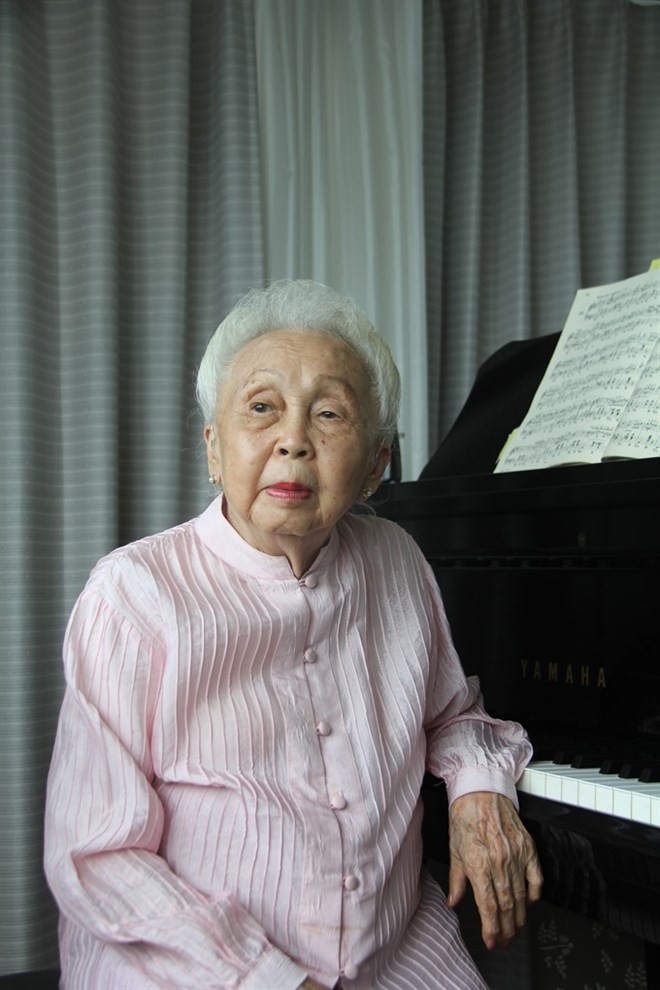 Madame Thai Thi Lien rehearses at her home for the next week's concert (Photo:VNA)