The annual music awards presented by Ho Chi Minh Television, the 'Album Vang' (Golden Disc), is going to celebrate the close of its first phase at the gala concert at Lan Anh Music Club (District 10) on October 12.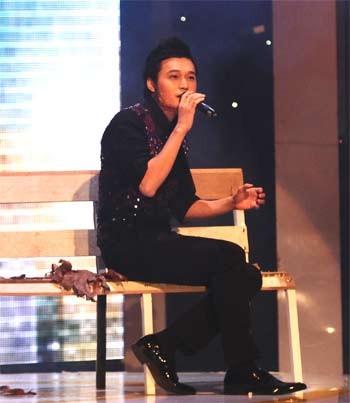 Quang Vinh, known as "Nightingale Prince," will present some fresh melodies at the gala concert on October 12 (Photo: Courtesy of Cat Tien Sa Media)
The gala performance, "Vu hoi am nhac" (Music Ball), is a review of the most popular albums, as voted for by the public, by singers Dam Vinh Hung, My Tam, Thanh Thao, Quang Dung, Ho Quynh Huong, Hien Thuc, Nguyen Vu, Hong Ngoc, Quang Vinh, Thu Thuy, Ngo Kien Huy, Bao Thy and Quang Ha. 
 
The highlight of the show is the demand that singers also have to dance.
 
A variety of dances scheduled are: tango by Quang Vinh and Dam Vinh Hung, rumba by Quang Ha, modern dance by Ho Quynh Huong and hip-hop by Thanh Thao.
 
The gala will also debut some collaborations on stage, no details have yet to be reported.
 
The Music Ball will be broadcast live on HTV7.
 
The gala will start at 8:30pm.
 
After the gala, the race for the monthly awards will continue with another five episodes before reaching the special awarding ceremony for "Album of the Year" on April 12, 2010.