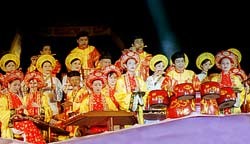 A performance of Nha Nhac, Hue's royal court music

Nha Nhac

(Hue's royal court music) and the cultural space of gong in the Central Highlands have been named in a 90-strong Representative List of the Intangible Cultural Heritages of Humanity drawn up by UNESCO, the Hue Relics Preservation Center said.

They had earlier been among the masterpieces of the oral and intangible heritage of humanity by UNESCO.

The announcement was made during a session of the Intergovernmental Committee for the Safeguarding of Intangible Cultural Heritage in Turkey's Istanbul from November 4 to 9.