Scripts are the bridge between literature and movies. Many famous literary works have been adapted into films, which have been become classics in the movie world. Vietnamese writers have made outstanding contributions in development of the film industry of the country.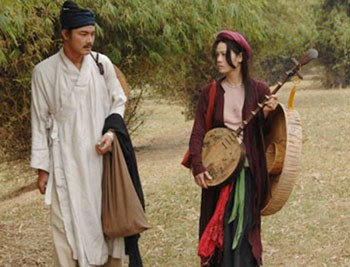 Actor Ngoc Ngoan and singer Nhat Kim Anh take roles of poet Nguyen Du and Ms. Cam in the film Long Thanh cam gia ca.
Vietnamese well-known literary works have been turned into movies that have successfully attracted audiences. Examples include: Vo chong A Phu (Mr. and Mrs. A Phu) by To Hoai, Tat den (Blowing out the flame of oil lamp) by Ngo Tat To (adapted into the film Chi Dau - Mrs. Dau), Chi Pheo by Nam Cao (adapted into the film Lang Vu Dai Ngay Ay - Vu Dai Village in the Old Time), Chua Dan (Dan pagoda) by Nguyen Tuan and Tuong Ve Huu (Retired General) by Nguyen Huy Thiep and more.

Modern examples include Trang noi day gieng (Moon in the Bottom of the Well) by Tran Thuy Mai, Canh dong bat tan (The endless field) by Nguyen Ngoc Tu and others. Some of them have won local and international awards.
The Vietnam Television Film Production Center has adapted books Ma lang (The ghost of village) by Pham Ngoc Tien, Bi thu tinh uy (The provincial party committee secretary) by Van Thao into TV series.
"The scriptwriter must understand and identify with the novels' content and characters deeply as well as be inspired by the books to turn them into films," said scriptwriter Tran Thuy Mai.
Writer and director Van Le said that he was inspired profoundly by the great poet Nguyen Du's poem titled Long Thanh cam gia ca (Song of string instrument player in Thang Long), which tells a story of tribulation experienced by a woman named Cam, adapting the poem into a film by the same name.
There are many writers whose works have been turned into movies, including Nguyen Quang Sang, Chu Lai, Nguyen Khac Phuc, To Nhuan Vy, Nguyen Nhat Anh, Nguyen Thi Minh Ngoc, Tram Huong, Vo Phi Hung and Nguyen Thu Phuong.

Some of them have become popular scriptwriters, such as Nguyen Manh Tuan, Nguyen Quang Lap and Van Le.
Insiders hope that this connection between literature and movies will create more and better Vietnamese film scripts.