There are countless Pho restaurants in Ho Chi Minh City, in which, Pho Tau bay is one of the oldest and most famous shops in the city.The name "Tau Bay' related to the shopper, a migrant worker who moved from the North to the South and often wore an old pilot's hat.
Opened in 1954 on Ly Thai To Street in District 10, Pho Tau Bay continues to be popular pho Bac illustrious style.
The old dilapidated restaurant has now been divided into two spacious shops with the same brand, and owned by the two brothers of the owner, but still keeping the flavor quality and ingredients of Pho Tau Bay.
Ho Chi Minh City is now home of many restaurants, offering Vietnam's classic noodle soup dish, such as Hoa, Ngan, Dau, Thanh Canh, Bac Hai, Hung, Dung, Le, Anh, Phu Gia, Thai Son, Phu Vuong, Quyen, Binh, Xuan Mai, Nguyen Hoang;  and a chain of other big & well-known brand names Pho such as Hung, Pho 24, De Nhat and more.
The key to the Vietnamese noodle soup pho is in the beef broth which gets simmered for hours with fresh rice noodles. The way all the spices and flavors from star anise, cinnamon, fennel seeds, cloves, coriander and other herbs come together is incredible.
Local well-known poet Tu Mo and writer Nguyen Tuan also wrote ever literary works honoring this dish.
Pho was created by the Vietnamese, is a national dish, reflecting the "wet rice civilization" of Viet Nam and the Southeast Asia.

To date, Vietnamese Pho is represented in more than 20 countries across over the world, such as France, the US, Japan, Canada, Australia, Thailand or wherever Vietnamese people live.
It has been voted best Vietnamese dish by international visitors and its ubiquitous scent is incessantly reviving expats' nostalgia.

The dish has become a brand of Vietnamese culture and left a deep impression to foreign visitors.
Pho was recognized as Asian records by the Asian Record Organization in 2013.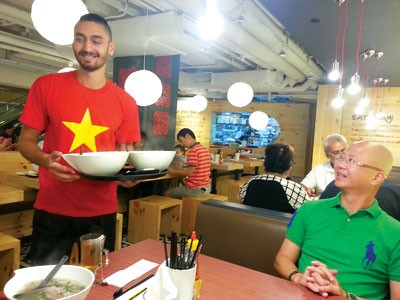 "So Pho So Good" restaurant in Singapore