Origin of jazz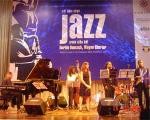 A Jazz Performance in Ho Chi Minh City
Jazz is the first indigenous American style to affect music in the rest of the world. Prominently, New Orleans city features in early development of jazz at the turn of the century. Later, these musicians from New Orleans moved to Chicago after clubs in the Storyville were closed. Chicago became the focal point for jazz in the early 1920s. The first piano style to be incorporated into jazz developed from ragtime and was popular in New York, thus, New York City where was also the center of the music publishing business contributed to the richness of jazz in many ways.

Introduction of jazz to Viet Nam

The French introduced jazz to Viet Nam in the early 20th century; however, people gave it a cool welcome. It comes as no surprise that in 1960s and 1970s people did not favor jazz much despite the presence of over half a million of American soldiers.
Viet Nam's society changed a lot in 1996 with the open door policy. Along with socio-economic development, tastes of music are extended to those kinds of foreign music such as jazz, rap, hip-hop, rock, etc. At the end of 1990s, three-time Grammy winner Sting came to Viet Nam and received thunderous applause from Viet Namese audience. The Hanoi and Ho Chi Minh city Music Conservatories have produced many reputable Viet Namese jazz players such as Quyen Van Dac and Tran Manh Tuan and a jazz club was established in 1998 by emeritus artist Quyen Van Minh, a well-known in Viet Namese jazz circles and Dac's father. Minh believed that jazz will gain wider audiences in the few next years. And it did. In his first solo performance in 1988, Dac helped the Saxophone approach the Viet Namese music lovers.

Development

In 2005's late months, there is a boom of jazz concert in Viet Nam.  Firstly, on May 11, 2005 two French singers of Viet Namese origin, Nguyen Le and Huong  Thanh, had their second performance at the Opera House. They blended jazz with Viet Namese folk songs such as Ru con Nam Bo (Southern lullabies), Ly do dua ( boat rowers' song),  Da co Hoai lang  ( Midnight song to miss husband), Ly muoi thuong( Song about ten beloved characters) and Xam Hue tinh ( Xam Hue's love).  Also taking part was Prof. Tran Van Khe, known in the world as an introducer of Viet Namese folk song and traditional musical instruments of Viet Nam.
Viet Nam hosted the 2005 European Jazz Festival, the fourth of its kind in the country since 2001. The festival, a favorite event in the music life of Viet Nam and a great chance for Viet Namese jazz lovers to explore new jazz styles. There was an outdoor concert and jam sessions with foreign artists, Viet Namese musicians and students. The play list included 9 jazz bands and soloists from seven European nations such as Mezcal Jazz Unit and Trio Portal, Aka Moon, Lars Storck, The Torbjorn Zetterberge Hot Five, Trodheym, Joaquin Chacon Quintet and MOTIF, guitarist Sylvian Luc and trumpeter Ernie Hammes, Joaquin Chacon Quintet and MOTIF.
Exchange activities
Esther Kaiser, jazz princess as called, visited Viet Nam and her concert took place on October 26th at the Hanoi Young Theater and on October 27th at HoChiMinh Conservatory. Having a clear youthful soprano voice, she sings lyrics but like any typical jazz singer, she is also a professional expert of improvisation in which the singer becomes an instrumentalist by using nonsense syllables instead of words. The performance in Viet Nam was a part of Kaiser's Asia tour, organized by Goethe institutes in the region.       
At 11 h November 17, the San Francisco Jazz Orchestra comprising of 40 US jazz players visited Viet Nam to mark the 10th anniversary of Viet Nam and America diplomatic ties. The orchestra has performed in many countries and gained success in Beijing, Shanghai and Guangdong in China but this was the first time they came to Viet Nam. It planned to present 19 famous jazz pieces to Viet Namese audiences in Ho Chi Minh, Da Nang, Hue and Ha Noi from November 19 to 27. The organizers stated 50 per cent of the money from the performance to be transferred to the fund of a charitable hospital for disabled children.


Herbie-Hancock
On November 22 - 30 under a Cultural and Speakers program sponsored by the US Department of State's Bureau of International Information Programs and Bureau of Educational and Cultural Affairs, the U.S. Embassy in Hanoi, and the US Consulate General in Ho Chi Minh City, The American multi-Grammy Award winner Herbie Hancock led a group of jazz artists, which included legendary saxophonist and composer Wayne Shorter, internationally acclaimed vocalist Nnenna Freelon, and the eight gifted young jazz musicians who attend the Thelonious Monk Institute of Jazz Performance at the University of Southern California, to Viet Nam for a tour commemorating the 10th anniversary of normalization of US - Viet Nam diplomatic relations. In addition to giving performances at the consulate and the embassy, they led a jam session and master classes at the Hanoi Conservatory and the Ho Chi Minh City Conservatory. In their plan, they performed 30 jazz works of Canteluop, Chameleon, Maiden Voyage, Black Nile, Footprints, Masqualero, and Lost.
Gradually Viet Namese people receive jazz but in their own way. Moreover, they blend jazz with Viet Namese songs making a specific feature for jazz in Viet Nam.