Ground breaking for the Ha Noi Museum took place at Me Tri Park in Ha Noi's Tu Liem District. The museum is one of several projects honoring the 1000th anniversary of the founding Ha Noi.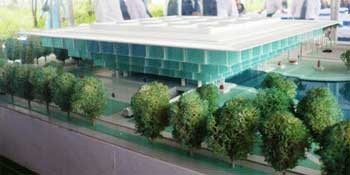 Design of Ha Noi Museum
The museum covers on an area of more than 50,000 square meters and is projected to cost VND2,300 billion (US$143 million). It is designed by the German joint venture GMP International GmbH and Inros Lackner AG.
The new museum will present some 17,000 documents and artifacts related to the history of ancient Ha Noi.
The four-story museum has an upside down pyramid shape with two basements. There are two meeting rooms and a technical area.
There will be a lobby and a temporary display area on the ground floor, along with exhibit space the three remaining floors. Construction is projected for completion by April 30, 2010.