The world's only 'krump band' performed a free concert, titled 'Summer Krump' for students of the National Economics University at the Students' Campus opposite 110 Tran Dai Nghia on May 27.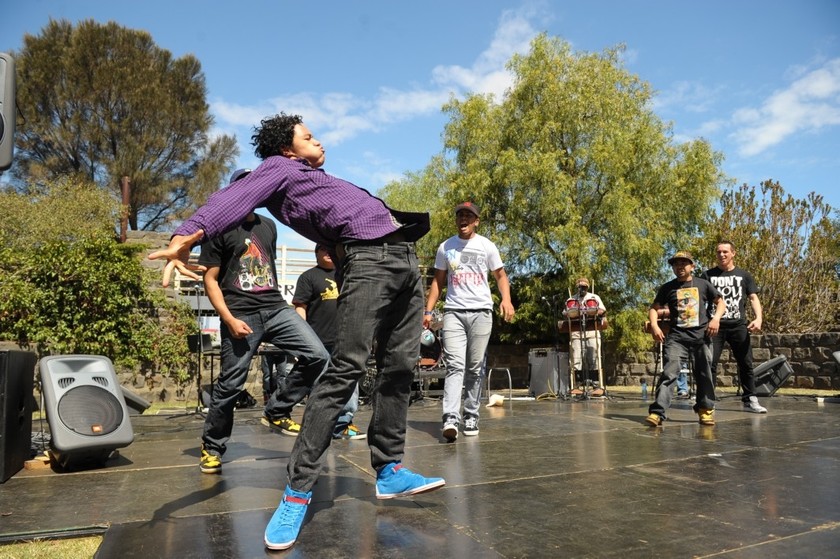 A 'Grrilla Step''s performance
The eight-member Australian krump group 'Grrilla Step' arrived in Hanoi on 25 May. Their tour is organised by the Australian Embassy in Hanoi and the Australian Trade Commission along with the National Economics University Youth Union.
'Grrilla Step' is one of Australia's leading dance groups comprising of DJ Dexter Fabay (formerly of The Avalanches), with four members of the Melbourne krump crew Royal Fam and four Papua New Guinea log drummers led by Master Airi Ingram.
'Grrilla Step' have taken krump to the next level, creating a unique "Pacific style" that weaves in influences from the homelands of the group members of the Torres Strait Islands, Cook Islands, Samoa, Papua New Guinea, the Philippines and New Zealand. Explains DJ Dexter, "There are key grooves that we stick to, but the krumpers are really spontaneous. They rehearse a foundation base but it can go anywhere. You have to control the music to a point where they get what they call 'amped'!
Australian Ambassador to Vietnam, Mr. Allaster Cox said: "Grrilla Step's background and performance style is unlike anything Hanoi audiences have seen before. The group shows how young Australians are finding new ways to express themselves across cultural backgrounds and experiences. I encourage Hanoi students to take advantage of this opportunity to see a truly international group like Grrilla Step in performance."
In Hanoi, Grrilla Step will conduct dance exchanges with students from RMIT University Vietnam and the National Economics University. The group will also perform at the CAMA Festival on May 28, raising money for Flora and Fauna International (FFI).
Krump originated in South Central Los Angeles, CA during the early 2000 in African American communities. Clowning is the less aggressive predecessor to krumping and was created in 1992 by Thomas "Tommy the Clown" Johnson in Compton, CA. In the 1990s, Tommy and his dancers, the Hip Hop Clowns, would paint their faces and perform clown acts for children at birthday parties or for the general public at functions as a form of entertainment.

Similar to break dancing, krumping is characterized by free, expressive, exaggerated and highly energetic movements involving the arms, head, legs, chest and feet. A dancer gives voice to his 'character' while attempting to advance through three levels of intensity (krump, buck and amp) and may express himself or herself in anyway, as long as it is authentic and organic.

There are four primary moves in krump: jabs, arm swings, chest pops and stomps.[4] Krumping is rarely choreographed; it is almost entirely freestyle (improvised) and is danced most frequently in battles or sessions rather than on a stage. Krumping is different stylistically from other hip-hop dance styles such as b-boying and turfing. Krumping is very aggressive, danced upright to a beat and fast-paced music; whereas b-boying is more acrobatic and danced to break beats. The Oakland dance style turfing is a fusion of popping and mimicking that incorporates storytelling and illusion. Krumping doesn't use mime techniques. It is also less precise than turfing and more freestyle. Thematically, all these dance styles share common ground including their street origins, their freestyle nature and the use of battling techniques.