Guitar Gala 2011 will be held in Ho Chi Minh City from December 8-18 to celebrate the 55th anniversary of the Ho Chi Minh City Conservatory of Music.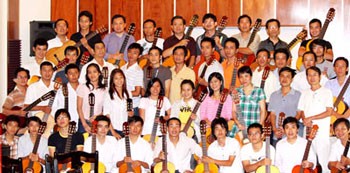 Guitarists throughout the country will join Guitar Gala 2011 in HCM City. (Photo: Sggp)

Many musicians and guitarists from the Vietnam National Academy of Music, Hue Music Institute together with foreign artists from Japan, Australia and Taiwan (China) will join the event.
The event will include guitar classes, conversations and exchanges between guitarists and music students.
As per schedule, Japanese guitarist Kozo Tate and Vietnamese-Australian guitarist Le Hoang Minh will give lectures at a guitar master class at the municipal conservatory of music from December 8-15.
Le Hoang Minh was the first-prize winner at the 50th Tokyo International Guitar Competition and is head of the guitar department at the ANU College of Arts & Social Sciences in Australia.
Music MA degree holder John Jiang from Taiwan (China) will speak about the guitar on December 15.
Famous guitarist Nguyen Tri Doan will also introduce guitar details and its various sounds on the same day.
A concert featuring Japanese guitarist Kozo Tate and Vietnamese guitarist will also be organized on December 15.
Highlights of the gala event are special performances from December 16-17 presenting masterpieces by Tchaikovsky, A. Vivaldi, Schubert, M. De Falla, A. Piazzola, Abel Fleury; Venezuela and Russian folk songs.
Foreign guest artists and local guitarists nationwide, including big names such as Chau Dang Khoa, Duong Kim Dung, Tran Hoai Phuong, Nguyen Tri Doan, Nguyen Thanh Huy, Huynh Ba Tho, Tran Phuong Quang, Nguyen Thi Phuong Thao and Nguyen Thi Phuong Thu will join the performances.