A ceremony will be held at the My Dinh Stadium in Hanoi on April 27, for Ha Long Bay to receive the title of 'World Natural Wonder'.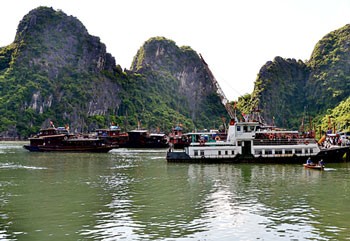 Ha Long Bay (Photo: Sggp)
The Swiss organisation New Open World announced that Ha Long Bay had been named one of the New Seven Wonders in the world last November.
Individuals and organisations had participated in voting for Ha Long Bay as one of the seven natural wonders of the world. Many promotional campaigns had been launched in cities and provinces throughout the country, along with activities that highlighted the spectacular beauty of Ha Long Bay.
The other seven natural wonders of the world include: the Amazon in South America; Iguazu Falls in Argentina; Jeju Island in the Republic of Korea; Komodo National Park in Indonesia; Puerto Princesa Underground River in the Philippines; and Table Mountain in South Africa.
Earlier in 1994, the United Nations Educational, Scientific and Cultural Organisation (UNESCO) had recognised Ha Long Bay in the northern province of Quang Ninh as a World Heritage Site.

The ceremony will be broadcast live on VTV channel on April 27.