The Vietnamese-Chinese production Ha Noi, Ha Noi will be screened at the opening of the Golden Rooster Awards in Beijing next month.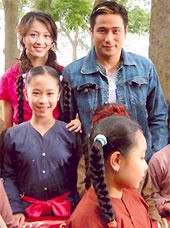 Vietnamese actor Minh Tiep (R) and a Chinese actress (L) in Ha Noi, Ha Noi
The story begins with a Chinese girl who must leave her Vietnamese sweetheart and return home because of the war. When she gets back to China she discovers that she is pregnant with a girl.
Thirty years later, her granddaughter journeys to Viet Nam to learn more about her origins that she heard through her grandmother's stories.

Filmed by veteran Chinese cameraman Wang Jin Li, Ha Noi, Ha Noi was shot on location in Ha Noi, Lao Cai, Yen Bai and Quang Ninh and is full of beautiful scenery and Vietnamese culture.
It is a co-production in every sense. Not only are the actors Chinese and Vietnamese, so are the scriptwriters, and the director is Chinese and his assistant Vietnamese.

The Golden Rooster (Jin Ji) Award was established in 1981, the Year of the Rooster, by the Association of Chinese Filmmakers.