Titles galore, the 2007 Book Awards presentation, talks by writers and publishers, book launches including the Vietnamese version of Harry Potter and the Deathly Hallows and much more besides are all happening at the Viet Nam International Book Fair in Ha Noi, which opened Thursday and is expected to run through this month.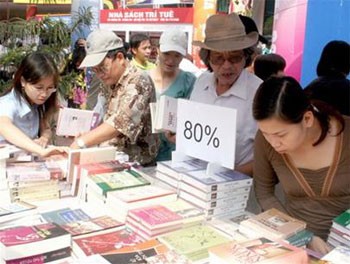 The international book fair will last till October 29 (Photo:TTO)
The annual show at the Culture and Arts Exhibition Center marks the 55th anniversary of the traditional day of book publishing, printing and distribution in Viet Nam.
There are more than 160 stalls manned by publishers and other firms from America, Russia, Sweden, Viet Nam and elsewhere as well as the ASEAN Publishing Association.
As always at these events, prices have been slashed and loads of titles are on sale with an 80 percent discount.
Among the many rare and valuable items on display are some very old books from the national library, Ho Chi Minh's celebrated work Duong Kach Menh, and Dong Ho woodcuts dating back more than one hundred years.
Fans of the Harry Potter series will turn up in droves for the debut of the Vietnamese version of Harry Potter and the Deathly Hallows at seven minutes past seven on Saturday morning.
Among the deals already struck, local outfit Apex Media has received the distribution rights to Disney magazines, books and school equipment in Viet Nam as well as some Disney merchandizing rights.
As part of the deal with Eastern Media Holding Licensing Inc., which holds the Indochina rights from the Walt Disney Company, Apex Media can use Disney cartoon characters on its Tuoi Tien-brand products for the younger brigade.