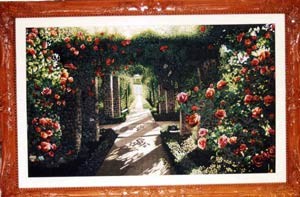 An embroidery made by Vietnamese artisans

Specialized craft villages across Viet Nam have set up more than 100 stalls at the "Products of Traditional Vocational Villages and Vietnamese Gifts 2006" fair that opened in Ha Noi on Tuesday.

The goods on display range from souvenirs, lacquer paintings and silks to traditional food and ornamental plants.
There is a separate area for folk games and songs, another for eating and drinking, and a special section for discussing business with the craft producers.
Individual and group prizes will be awarded for outstanding products and displays, among them "Typical Village" and "Artisan with Golden Hands".
The fair's organizers are Sai Gon Giai Phong newspaper, the Vietnam Cooperative Alliance and the Viet Nam Exhibition and Advertising Company (Vinexad).