An exhibition of postcards showing 20th century Viet Nam opened today at the Sofitel Metropole Hotel in Ha Noi.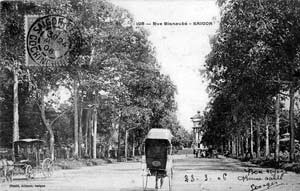 A postcard in the exhibition
The eight-day "Ha Noi, Hue, Sai Gon – A Trip to Back in Time and Space" exhibition has on display 77 items in three categories: places, architecture and region, and ordinary life.

They show famous Ha Noi landmarks like Hoan Kiem Lake, West Lake, and Dau Xao Stadium, the damage caused to the door of the Metropole by the terrible storm of 1903, royal tombs and the funeral of Emperor Khai Dinh in Hue, and a crowded ferry-boat in Sai Gon.

There also images from ordinary life -- like a market day in town and terracotta and garment shops.

The exhibits are part of a collection of 400 postcards made during the last century that are in the hotel's possession.

The exhibition is organized by the hotel and the United Nations Educational, Scientific and Cultural Organization (UNESCO) office in Viet Nam with support from the Viet Nam Science and History Association and historian Duong Trung Quoc.