Tuoi Tre Theatre joined hands with Maya Viet Co. to present a weekly series of live shows, 'Trinh dien voi the gioi' ('Performing with the world'). The show will debut at Tuoi Tre Theatre, Ha Noi March 18.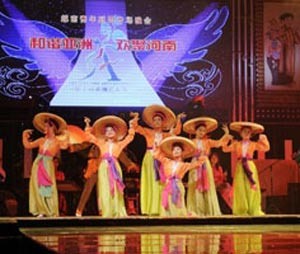 Dancers practice for their performance on March 18 (Photo: Lao Dong Newspaper)

The series of shows will be performed every Wednesday.
Every show will include 11 performances divided into three sections: dancing, traditional instruments and singing in foreign languages.
Scripts will be written by 'People's Artiste' Le Hung.
Mr Hung will also direct some comedy sketches 'Doi cuoi' ('Laughs in life') with the dialogues in English.
For the debut show, besides five dance performances, theatre goers will enjoy music from four Vietnamese instruments: dan T'rung (a musical instrument from the Central Highlands), dan bau (Vietnamese monochord), dan nhi (Vietnamese bowed string instrument with two strings), and sao truc (small transverse flute used in the traditional music of Vietnam)
Some world famous songs will close the show, including 'Joy to the World' and 'Don't cry for me Argentina'.
The series is one part of a project to promote Vietnamese art and culture to foreigners. It is a supporting event for the campaign 'An tuong Vietnam' ('Impressive Vietnam') by the Ministry of Culture, Sports and Tourism.