The 2008 Viet Nam Oil Painting Exhibition opened in Ha Noi last week featuring 170 works.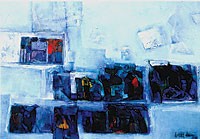 The oil painting titled "Silvery salt field" by Hoang Dang is on the display.
Chosen from more than 1,000 paintings submitted by nearly 550 artists, the paintings depict mundane and beautiful moments in life, the artists' concern for pollution, human values, changes caused by modernity, and other issues.
The works provide a comprehensive view of Vietnamese artists' creativity, skills, and oil painting techniques, while the event provides artists a forum to compare notes.
The exhibition, organized by the Fine Arts and Photography Department and the Ministry of Culture, Sport and Tourism, follows the success holding of the National Lacquer Painting in 2006 and the National Silk Painting in 2007. It will go on until the 16th.