Ha Noi officially started a 1,000-day countdown on a large digital clock overseeing Hoan Kiem Lake at midnight yesterday, thus kicking off celebrations leading up to its 1,000th birthday in 2010, when the capital hopes to be listed as a UNESCO heritage site.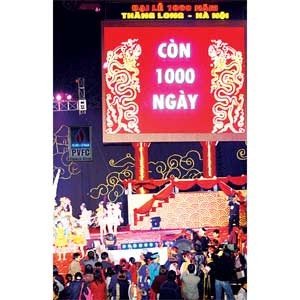 The digital countdown clock
Besides the numbers representing the countdown leading to the 1,000th anniversary of Thang Long – Ha Noi on October 10, 2010, the 16m high clock also showcases the city's beautiful photos and Government's policies for the country's development.
Ha Noi was chosen as the capital of the Dai Viet Kingdom, now Viet Nam, in the 1010 by founding king Ly Thai To, who named the city Thang Long, or Ascending Dragon.
Festivities already permeated the capital hours before the countdown at 22:00.
On this occasion, a festival themed "Thang Long – Dong Do- Ha Noi Moments" were held in a solemn but jubilant atmosphere amid non-stop cheers from Hanoians and people from neighboring provinces.
Activities included a Sport and Culture Parade by Ha Noi residents of all ages, folk art performances, colorful parades along the Hoan Kiem Lake to relive folk spirits from such traditional festivals as the Bat De Shrine and Lam Son festivals.
Aimed at stirring back nostalgia for an ancient Ha Noi, an outdoor exhibition entitled "Remembering old Ha Noi" was also held in the Ly Thai To flower garden to display 180 photos portraying the "old" Hanoians, their clothing, daily activities, festivals and folk games.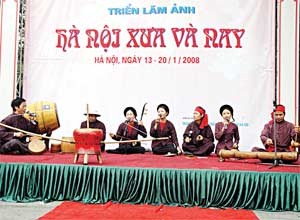 An art performance at midnight yesterday
Its midnight highlights were art performances by 300 local folk artists in addition to several ao dai (traditional long gown) fashion shows backed by modern lighting and sound effects, which vividly conveyed Ha Noi's 1,000-year history.
According to the organizers, the "Thang Long – Dong Do – Ha Noi Moments" is not simply a call for attention but in fact a bell to awaken the Hanoians' love for their city.
The ceremony was attended by top leaders including Standing Deputy Prime Minister Nguyen Sinh Hung, Secretary of Ha Noi Party Committee Pham Quang Nghi, Chairman of the city People's Committee Nguyen The Thao, and Minister of Culture, Sports and Tourism Hoang Tuan Anh.