A "Hanoi Flower Street Festival" will be held for the first time, with the area around Hoan Kiem Lake and Dinh Tien Hoang Street to be bedecked in flowers to mark New Year.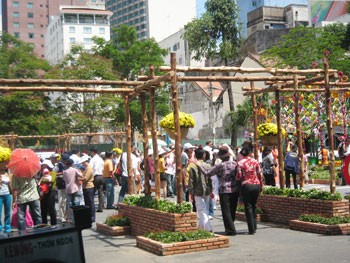 HCMC's Nguyen Hue flower street in the lunar New Year.  (Photo:Anh Vu)
The Ha Noi People's Committee has approved a proposal by the Department of Culture, Sport and Tourism and the Vietnam Artistic Exhibition Center to organize the five-day event starting December 31.
Around 1,200 lanterns will be released into the sky at the opening ceremony.
Hanoians will also get to see artworks made of flowers and handicrafts made by famous artisans and craftsmen from Ha Noi's traditional villages.
A 50-meter-long ceramic Ha Noi ancient streets made by artisan Nguyen Manh Tuan will be on display.
A 50-meter stretch of street will be designed by well-known florists Sao, Time Flower, and Minh Vinh.
Silk and paper flowers made by artisans Mai Hanh, Nguyen Ba Muu, and Duc Hai too will be on show as will a giant paper fan measuring 4.5 x 9m and decorated with Dong Ho paintings created by artists from Trang Son paper fan village.
Nguyen Hue flower street (Photo:Anh Vu)
Among the highlights will be an artificial lake with wooden lotuses made of red lacquer with gold trim by Son Dong village craftsmen and a 15-meter dragon made of flowers.
Nguyen Manh Hung will show off his collection of ao dai (traditional dress) made of rattan, silk flowers, dried flowers, and leaves.
Dalat Hasfarm will provide hundreds of flower baskets and pots to decorate 548 meters of sidewalks.
Cyclos, bicycles, and other vehicles decorated with flowers will create a tableau on the streets.
There will be a fashion show, music and dance performances, flower arrangement shows, and more.
The event is expected to cost VND2 billion, with the money coming from artisans, companies, and other sponsors.
With most of the city's flower gardens destroyed during the recent flooding of Ha Noi, the festival will use flowers brought from neighboring provinces.