A Sakura or Cherry Blossom Festival, the second of its kind, will be held at Giang Vo Exhibition Center in Ha Noi on April 6 to mark the 35th anniversary of Viet Nam-Japan diplomatic ties.
The festival features 300 cherry blossom branches and 150 Japanese landscape paintings of spring and cherry blossoms. In addition, 300 carp-shaped lanterns will be given away to participants.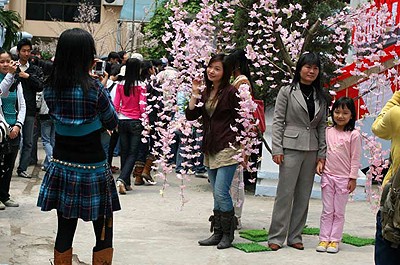 Last year Cherry Blossom Festival drew around 10,000 visitors
Visitors may enjoy traditional Japanese cuisine with the participation of 20 Japanese restaurants including Matsuda, Sushi Tokyo, Ren and Shichi. Cooks will make soba noodles by hand.
Traditional games and sports like Kendama ("cup and ball"), a game of skill in which the player tries to catch the ball in the cup or on a spike while performing a variety of tricks and wrist flicks; Wanage, a game with beads; and origami will be introduced at the festival.
In addition, kabuki, a theatrical form; the kimono, the national costume of Japan; fashion and martial arts like Aikido, Taekwondo and the tea ceremony are expected to attract a lot of people.
Two young dancing groups from Tokyo will bring fresh air to the festival with Yosakoi dance, which combines traditional dance movements with modern music and Obon dance, called "bon odori". This is the name of an annual Buddhist event commemorating ancestors. Students and teachers of Nui Truc Japanese Teaching Center will participate.
Women can display their cooking skills in a competition to make sticky rice cake.
Short films on contemporary Japan presented through the eyes of Vietnamese students will also be shown during the festival.
Those concerned with disadvantaged persons can contribute to charity box. All money collected from the festival will be donated to disabled children, according to the festival's organizers.
This second festival is organized by the Ha Noi Peoples Committee, Vietnamese Ministry of Culture, Sport and Tourism, Viet Nam  -Japan Cultural Association, the Ministry of Foreign Affairs of Japan, the Japanese Ministry of Science and Education, the Japan Business Association of HCMC, and the Sakura Association.
The first cherry blossom festival took place in Viet Nam  last year and drew around 10,000 visitors.