A festival celebrating the 36 guild streets in Ha Noi's old quarters will be held from April 29 to May 4 at the capital's Ancient Citadel at the end of this month.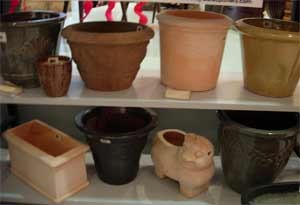 Pottery vases, Vietnamese traditional handicraft products, are on a display.   (Photo:KK)
Held to celebrate the 33rd anniversary of reunification, April 30, and Labor Day, May 1, it will see 1,000 candles symbolizing 1000 years of Thang Long -- as Ha Hoi was know in the past – lit up to mark the opening ceremony on April 29.
There will be parades by artisans through the streets around the citadel, a drum festival, performances of traditional water puppetry, cheo (reformed opera), culinary and folk games, and more.
The old quarter of Ha Noi, called the "36 Old Streets", was home to guilds which were all called Hang. The streets were named for their products, services or locations. For example, Hang Bac, one of the oldest streets in Viet Nam, housed the trade. Bac means silver in Vietnamese.
Stalls featuring pottery villages like Bat Trang  and Chu Dau, Van Phuc silk village, and Dong Ho paintings will showcase handicrafts.
The event will be organized by the Viet Nam Craft Village Association and the Co Loa Relic and Thang Long Ancient Citadel Conservation Center.