The hand-made craft shops in Ha Noi's old quarter have been busy the last few months preparing for the APEC summit in mid-November. The fancy looks and well stocked interiors are not for the coming winter but for the distinguished visitors.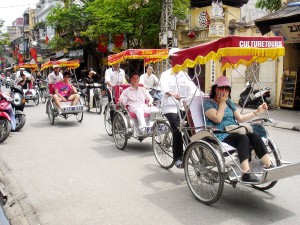 Organized cyclo tours are common in Ha Noi's old quarter (Photo: VH)
Ha Noi by day
Mr. Nguyen Dung, who runs a craft shop in Hang Gai Street, says everything is ready for the "biggest event in Viet Nam", as he describes it. Already his shop has welcomed plenty of international leaders and delegations.
President Bill Clinton, for one, stopped by Mr. Dung's establishment in November 2000 and received two vases featuring One Pillar Pagoda (Chua Mot Cot) and the Pavilion of Literature (Khue Van Cac).
For six months now Mr. Dung has been stocking up on lacquer paintings and other handicrafts to sell during the APEC gathering, and signing contracts with the embassies of the APEC countries.
A stone's throw away is number 66 Hang Gai Street, where a large board bearing the words "Welcome APEC 2006" hangs out the front.
Ms. Thanh Huong, the shop's owner, is eager to show off her numerous hand-embroidered pictures of beautiful places and people.
"They're not all for APEC, but a lot are. Most of them were done earlier this year. Many of the big hotels for the APEC delegates have placed big orders with us for pictures to give the APEC leaders," she says.
Every shop in the old quarter feels blessed and regards APEC as a golden opportunity to sell their traditional products to foreigners who are both very rich and very important. Most of the shops have strung up colorful banners and even put up billboards for the occasion.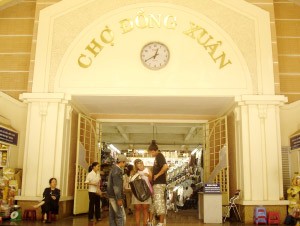 Dong Xuan by day (Photo: VH)
A Khaisilk shopkeeper boasts of the famous names who have dropped in. "Former Secretary of State Madeleine Albright and the wife of a former Japanese PM have been here. Kofi Annan and his wife bought a tie and scarf here. Everything in this shop is made of Vietnamese silk, from big items like clothes and bags down to the scarves and ties. I'm sure my patrons will be more than pleased with these delicate products of Viet Nam."
Ha Noi by night
Dong Xuan night market close by Sword Lake in the heart of Ha Noi is staying lit up all night, every night to impress the APEC visitors. The original market was a temporary affair in a lane leading to the main Dong Xuan market and is sometimes mentioned in stories.
Window shopping rather than actually buying anything is the norm at Dong Xuan. So are strolling around and people watching, especially when they're bargaining.
Ha Noi is also well-known for many kinds of flowers. Hanoians like to wander along to Nghi Tam flower market at dawn and buy flowers in bulk at low prices.
The flower market on the shore of West Lake starts up at 1 am every day, yet even at this early hour there are plenty of camera-laden foreigners milling around.
Dong Xuan lights up at night (Photo: VH)
With different kinds of flowers depending on the season, Nghi Tam has long been important in the life of Ha Noi. One of the florists, Ms. Quynh Hoa, says she has prepared some special bunches and bouquets to impress the foreigners.
Daisuke Motoyuky from Honda Viet Nam is waiting for her Japanese friends to come to Viet Nam in a few days' time. "I will bring them here to this place and we'll have a great time. You know, I once asked a girl how she could get up so early to sell flowers and look cheerful all the time. She just smiled and said nothing. It was so impressive, so graceful, so Vietnamese."