The Asian Olympic Council will provide VND1.6 billion (100,000 USD) in aid for the construction of the Viet Nam Olympic Sports Museum located at the My Dinh National Sports Complex. The construction is expected to finish in 2007.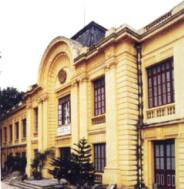 Ha Noi Revolutionary Museum
The museum will display objects and documents of, as well as developments and achievements in, Vietnamese sports throughout history.
Prime Minister Dung has also approved the construction of a National Museum of History incorporating the Revolutionary Museum and the Viet Nam Historical Museum.
The National Historical Museum is not only a place where periods of Vietnamese historical processes are displayed, but also an information center and data bank of Vietnamese cultural heritage.
The museum construction will commence in 2007 and should be complete by 2012 in the center of a new urban quarter near West Lake taking up 10ha.