The Central Committee of the Communist Party of Vietnam has given a nod to the People's Committee of Ha Tinh Province to hold a ceremony celebrating the great Vietnamese poet Nguyen Du's 250th birthday in 2015.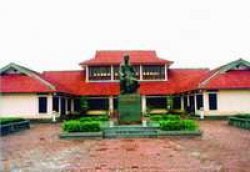 Nguyen Du Memorial House in Tien Dien Commune, Nghi Xuan District, Ha Tinh Province.
The United Nations Educational, Scientific and Cultural Organization (UNESCO) has chosen the great Vietnamese poet Nguyen Du among other world famous personalities to deliver a speech at its 37th General Assembly in Paris last year.

Poet Nguyen Du has been recognized by UNESCO for his Truyen Kieu (Tale of Kieu), a masterpiece of Vietnamese classic epic poetry.

Truyen Kieu has been translated in more than 30 languages.

The literary masterpiece tells a tragic tale of a woman of great beauty and talent whose fate turns tragic. The young lady named Vuong Thuy Kieu is forced to sell herself to save her family, even though she is very learned. She overcomes many hardships in a lifelong pursuit of her doomed lover Kim Trong.

Truyen Kieu is a unique work that has created a 'Kieu culture' such as telling of fortunes from a text of the Kieu story and writing of poetry inspired from the tragic life of Thuy Kieu.

Nguyen Du was recognized by the World Peace Council as one of the world's cultural celebrities in 1965.