Young Vietnamese see the Halloween festivities, only recently introduced in the country, and usually held on the night of October 31 - the eve of the Western Christian feast of All Hallows - as a chance to have some fun. However, this year sale of Halloween items has been very dull throughout the country.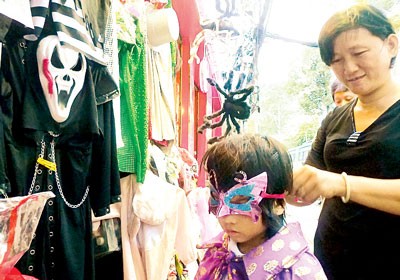 A woman chooses a mask for her child at a shop on Oct 27, 2012. This year sale of Halloween items has been very dull throughout the country
Typical Halloween activities include trick-or-treat, attending costume parties, carving pumpkins into jack-o'-lanterns, lighting bonfires, apple bobbing, visiting haunted attractions, playing pranks, telling scary stories, and watching horror films.
As soon as October nears, stores begin to display Halloween festive costumes for disguising such as ghost masks, skeleton-like clothes, long black cloaks or scythes. People don masks or costumes to disguise their identities and play pranks on their friends and neighbours.
However, this year shop assistants in stores along the City streets like Nguyen Thi Minh Khai, Hai Thuong Lan Ong, Phan Dinh Phung, Bui Vien, and Tran Quang Khai complain that only a few customers have bought these items.
Fear of lead contamination this year could be a reason, after U.S. customs officials have seized nearly 1,400 Chinese-made disguise clothing which were contaminated with lead. In order to save money and have their own unique outfits, most young people have begun to make costumes at home.
Mrs. Dung, a shop owner in Tran Quang Khai Street in District 1 sighs saying the festival only comes once yet very few people have asked to buy disguise clothing and other items, even old clients such as hotels, restaurants, bars or students of universities or colleges.
Another shop assistant on Bui Vien Street in District 1, a backpacker's area in downtown Saigon and a great tourist attraction for foreigners coming to Vietnam, is surrounded by four streets: Pham Ngu Lao, De Tham, Bui Vien and Do Quang Dau, said even in this area sales are dull this year as compared to previous years when these festive items sold like hot cakes.
A dermatologist warned that young people while making clothes and masks for the festival should be careful not to overuse paints or chemicals to put on their faces especially on eyes and mouth as these paints and chemicals have unclear indications of origin and ingredients.