A charity concert featuring Vietnamese and international classical music and Christmas songs at the Hanoi Opera House December 19 will raise funds for disabled children.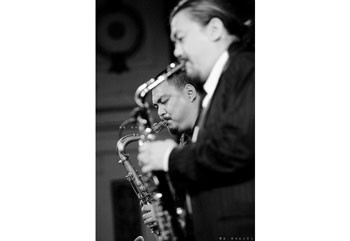 Saxophonist Quyen Thien Dac (L) and his father, saxophonist Quyen Van Minh (Photo:TTO)
Famous saxophonist Quyen Thien Dac; soprano Xuan Thanh who has won many prizes at singing contests in Russia and the US; a choir from the Nguyen Dinh Chieu School for the Blind; The Hope, a group of blind children who play traditional music; and talented young pianist Vu Dang Minh Anh, who won the third prize at the Val Tidone International Music Competitions in Italy last June, will perform in the concert.
Ms. Anh, born in Poland in 1994, is currently studying at the Karol Szymanowski National Music School and American School of Warsaw in Warsaw. Despite her tender age, she has already won numerous awards at international contests in France, Spain, Poland, and Italy.
She will perform masterpieces by composers like Beethoven, Liszt, and Chopin as well as her own  composition, "Somewhere over the Clouds," which won the first prize in a music competition held by her school in November.
The concert will be organized by the Investment Consultancy, Business Assistance, Ltd (ICBA), and Hanoi Relief Association for Disabled Children.
Mr. Dac and his father Quyen Van Minh will also play the saxophone at a Christmas concert at the Hanoi Opera House on December 18 and 19.
The Vietnam National Symphony Orchestra and Japanese pianist Yamashita Yosuke will perform at the event under the baton of Japan's Tetsuji Honna.