A festival of flowers will take place at Hoan Kiem Lake in Hanoi from December 30 to January 3 to cerebrate the New Year and mark the 1,000th anniversary of Thang Long-Hanoi. Nguyen Khac Loi, deputy director of the Hanoi Department of Culture, Sports and Tourism, announced the event on December 25.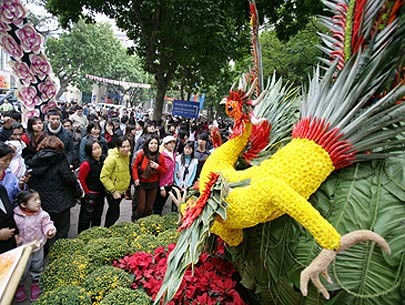 Visitors enjoy Hanoi's first flower streeton January 1, 2009. 
Titled "Lung linh sac hoa Hanoi" (sparkling Hanoi flowers), the festival will display an installation work of 2,000 tulips from Holland on Hang Khay street. Near the statue of Ly Thai To, a nine-meter-tall flower tower will be exhibited with nine dragons weaved from fresh  flowers and fruits.

Installment works made from drums and flowers, a temple made of bamboo, a miniature model of Long Bien Bridge with images of a cherry blossom village, and Vong Thi kumquat trees will be on display on Dinh Tien Hoang Street. Visitors can also enjoy traditional artistic performances of Thang Long-Hanoi on a specially decorated flower stage.

The festival will kick off with fireworks during the opening ceremony at the statue of Ly Thai To and The Huc bridge area.

A flower arranging competition will also be held on December 31 with participation of representatives from 29 districts in the capital.