A special music gala paying tribute to late President Ho Chi Minh took place in Hanoi on August 30, with the participation of Party and State leaders, and was broadcast on national television.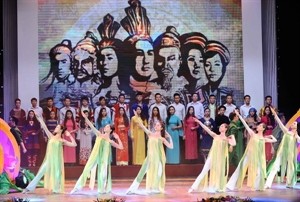 At the event (Source: VNA)
The show was organised in celebration of the 45th anniversary of President Ho Chi Minh's Testament, and the 69 th anniversary of the August Revolution and National Day.
In his welcoming speech, head of the Party Central Committee's Commission for Education and Popularisation Dinh The Huynh said that when President Ho Chi Minh left this world behind on September 2, 1969, he gifted the Party and nation an invaluable spiritual legacy, namely his thoughts, virtue, and, above all, his sacred testament.
"This timeless document echoes the noble virtue, mindset and soul of a national hero and global cultural celebrity. Over the past 45 years, Ho Chi Minh's testament has emboldened and guided our entire Party, people and armed forces through a myriad of hardships, pushing our revolution on, from victory to victory", he said.
The will predicted the inevitability of triumph in the war against America and urged the Party to devise plans to improve public well-being, both economically and culturally.
It lays out a theoretical approach to the process of building the Party and socialism, along with the provision of useful instructions, he added.
The performances featured artists from the Vietnam Contemporary Arts Theatre and the Vietnam National Academy of Music.