Over 100 Viet kieu (overseas Vietnamese) teenagers gathered at the square near the Ho Chi Minh Mausoleum on July 19 for this year's Vietnam Summer Camp.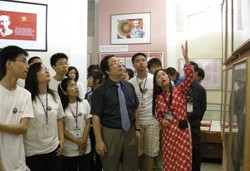 Oversea Vietnamese teenagers visit the Ho Chi Minh Mausoleum in Hanoi on July 19 ahead of an annual summer camp (Photo: CPV)
The annual camp, titled "the guiding torch" this year, gives the teenagers a chance to practice Vietnamese, find out about the traditional culture of the country, and meet teenagers from their mother country.
Organized by the State Committee for Overseas Vietnamese, the Ministry of Foreign Affairs, and Ho Chi Minh Communist Youth Union, it will last until August 5 this year.
After the opening ceremony, the expatriates visited the Mausoleum and took part in a seminar themed "Uncle Ho and overseas Vietnamese teenagers."
Vietnam Summer Camp began to be held in 2004.