A special concert titled 'Be Vietnamese" will be held at the Cultural Friendship Palace in Hanoi on November 2 to raise funds for flood victims in the central region.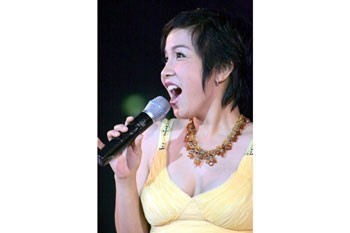 Singer My Linh
The idea for the performance came from young musicians consisting of Do Bao, Ngoc Chau, Luong Minh and Bui Minh Dao when they read reports on recent floods, and saw damage and loss of life caused by the typhoon in the central provinces from the local news.
Hundreds of famous singers at home and abroad including Thanh Lam, My Linh, Hong Nhung, Ai Van, Ho Quynh Huong, Quang Linh, My Le, Tan Minh, Khanh Linh, Duc Tuan, Ha Anh Tuan, saxophonist Quyen Van Minh, zitherist Vo Van Anh and more will join the show.

The concert also receives enthusiastic supports of director Pham Viet Thanh and the Vietnam Musicians Association.
Tickets at costs from VND800,000 (US$40) to VND1 million (US$50) are available at the Vietnam Musicians Association, 51 Tran Hung Dao Street in Ha Noi.

All proceeds from the music show will be donated to flood victims in the central region.