More than 100 feature films and documentaries from 31 countries and territories in the Asia-Pacific region are being shown at the Hanoi International Film Festival which opened on November 25.
Nearly 1,000 delegates and guests, including about 200 international delegates are attending the cultural events at the Film Festival.
The Hanoi Friendship Cultural Palace was crowded with numerous national film artists who are 'gold stars' and have contributed much to Vietnamese cinema, such as People's Artist The Anh, People's Artist Doan Dung, People's Artist Nhu Quynh.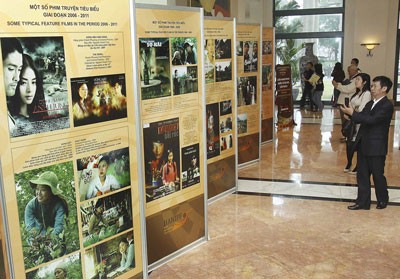 The exhibition 'Vietnamese Films in Era of Innovation' opened at the Daewoo Hotel in Hanoi
Also present at the events were outstanding directors such as People's Artist Dang Nhat Minh, People's Artist Bui Dinh Hac, Meritorious Artist Luu Trong Ninh, Meritorious artist Le Hoang, Meritorious artists Vuong Duc and Bui Thac Chuyen.
The President of the Film Festival this year is German director Jan Schuette, who gained his reputation at the recent Cannes International Film Festival as a jury member.
Vietnam will present 42 films in different categories with three themes, Hanoi, Vietnam's Renewal period, and those produced from 2010 until now.
While Vietnamese and short foreign films are free, film-lovers can buy tickets at a 50 percent discount to watch foreign feature films.
37 films will compete in the categories of Best Feature Movie, Best Short Film and the Network for Promotion of Asian Cinema Award.
It is expected that the Best Feature Film will be awarded to either the Vietnamese film Thien Menh Anh Hung (Blood Letter) or Dam Me (Passion).
A number of foreign films that are rarely shown in Vietnam, such as Orphan (Russia), Footnote (Israel), Iron Lady (Britain) and Amour (France) will be shown during the Festival.
The latter won the Golden Palm Award at the 2012 Cannes Festival, the highest prize awarded and presented to the director of the best feature film in the official competition.
Audiences will also have a chance to meet documentary makers, animators and film crew members.
Hollywood actor Clifford Vivian Devon (Cliff Curtis) and Iranian actress Taraneh Alidoosti, voted as the best Iranian actress of the decade by 130 Iranian film critics, will be at the Film Festival.
The Festival will feature a three-day workshop in which experts like Sonja Heinen from the World Cinema Foundation, Tessa Inkelaar from Film London and Michael J Werner from Fortissimo Films will share their experiences with emerging Asian directors.
The closing ceremony and awards presentation will be held at the Friendship Cultural Palace on November 29.