Almost 200 films from 38 countries and territories around the world will be viewed at the 2nd Hanoi International Film Festival themed 'Asian-Pacific Cinema-Unity and Development' in Hanoi from November 23-29.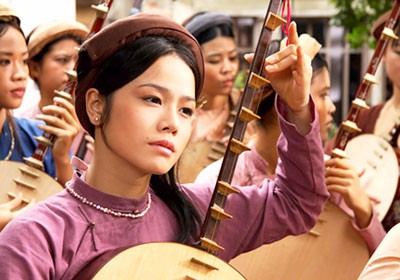 A scene from the film 'Long thanh cam gia ca' (A song about a girl who plays zither in Thang Long royal citadel)
Ms.Ngo Phuong Lan, director of the National Cinema Agency and chief organizer of the film festival, said that the number is expected to increase by November 25. Movies will come from countries with a robust film industry, such as Russia, China, South Korea, India, the UK, France and Germany.
The Panorama is one of the most anticipated events in the film industry and will introduce to audiences famous movies such as 'Amour'-the film that won the Palme d'Or Award at the Cannes International Film Festival 2012, by renowned director Michael Haneke; 'A Separation', by Iran Asghar Farhadi that won a series of awards like the Best Foreign Language Film at the 2012 Oscar (U.S.A), the Golden Globe, the César (France) for Best Foreign Film in 2012, and the Golden Bear at the Berlin Film Festival 2011; and 'We Need to Talk About Kevin'- adjudged best film in 2011 in the UK.

Vietnam will present to the public 30 movies during the festival.

Films will be screened at Megastar, Lotte, August, Kim Dong and Ngoc Khanh cinemas, and the Vietnam Cinema Agency. In addition, workshops and exhibitions will be held for five days of the festival.

The festival includes prizes in categories in best feature film, best short film, best documentary, best director, best actor and best actress.