A new lacquer installation exhibit sponsored by the US Embassy in Hanoi, opened December 4 in the capital.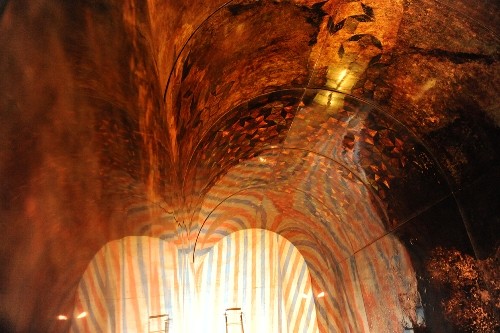 The dome of Specula
"Specula," the latest exhibition by Vietnamese American artist Phi Phi Oanh Nguyen offers visitors the chance to view lacquer in a new light.
Two years in the making, Specula combines Vietnamese lacquer techniques with architecture and mural painting, taking viewers on a mysterious journey of exploration.
A walk through the colossal exhibit reveals a multilayered network of images representing the interior of an imaginary cave.
Specula draws from diverse sources including Hanoi architecture, Islamic designs, prehistoric cave paintings, and installation art. 
The cultural hybrid results in a contemporary installation that ponders age-old universal questions of presence and existence, while revealing much about the artist herself.
Born in 1979 in Houston, Texas, Phi Phi Oanh attended Parsons School of Design in New York and Paris. The US Embassy also sponsored her first exhibition Black Box in Hanoi in 2007.
Specula is running at the Hanoi City Exhibition Hall, 93 Dinh Tien Hoang Street until December 31.