A festival was held at Dong Da Cultural Park in Hanoi on January 27, the fifth day of the Lunar New Year, to mark the 223rd anniversary of Ngoc Hoi – Dong Da victory over the Chinese Qing invaders.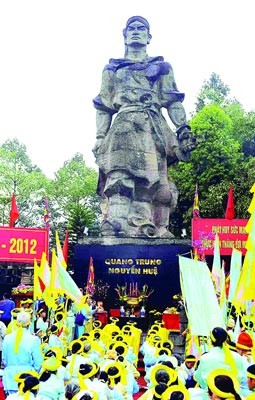 A procession was held to commemorate the historical event at Dong Da hill, Hanoi (Photo:SGGP)
The festival highlighted the historical significance of the victory in the spring of 1789 when the Tay Son insurgent army, under the leadership of Nguyen Hue, defeated more than 200,000 Qing invaders and acquired freedom and independence for the nation.
The occasion was commemorated with unique traditional art performances and other cultural activities, including a dragon dance and martial art performances.
Many new activities were included in this year's festivities. The tradition of making offerings, dragon dances and palanquin processions were brushed up and given a new face along with 'bai choi' folk songs, said a representative of the Dong Da Culture Park organising committee.
Performers from the Hanoi traditional opera recreated the heroic story of King Quang Trung and his troops defeating invaders atop the hill in 1789.
Quang Trung, a Tay Son farmer who later became a national hero, defeated more than 200,000 soldiers of the invading Qing army. Dong Da Hill has become known as one of the nation's most glorious historical sites.
In the early morning hours of the festival, a procession to celebrate the historical event commenced at Khuong Thuong and ended at Dong Da Hill. The procession included flags, a decorative parasol, palanquins in a variety of colours accompanied with the sounds of gongs and drums.
The Dong Da Festival takes place annually on the 5th day of the lunar first month. It is a festival organised in memory of King Quang Trung's great military victory.
The festival has become an essential part of the capital's culture. It's a way for people to commemorate a great historical event and for the younger generation to remember the heroic deeds of their ancestors.
On the same day, leaders of the Thua Thien-Hue provincial People's Committee offered incense and laid wreaths at the monument of Emperor Quang Trung-Nguyen Hue at Ban Mountain in Hue city.
The mountain was where Nguyen Hue was crowned as Emperor Quang Trung, who later brought the army to the north to defeat the Qing invaders and free Thang Long citadel.
On the same day, a music performance was held at Tao Dan Park in Ho Chi Minh City to mark the 223rd anniversary of Ngoc Hoi – Dong Da victory.
Delegates to the event included Le Thanh Hai, Secretary of HCMC Party Committee, Nguyen Van Dua, deputy Secretary of HCMC Party Committee, Hua Ngoc Thuan, deputy Chairman of HCMC People's Committee, Duong Quan Ha, chairman of HCMC Motherland Front Committee, Than Thi Thu, head of the city Party Committee's Commission for Education and Propaganda and representatives from ministries.