Kim Dong Publishing House and the Hanoi Writers Association on November 20 hosted a ceremony to celebrate the 70th anniversary of 'De Men phieu luu ky' (Diary of a cricket), attended by the author To Hoai and a crowd of ardent readers.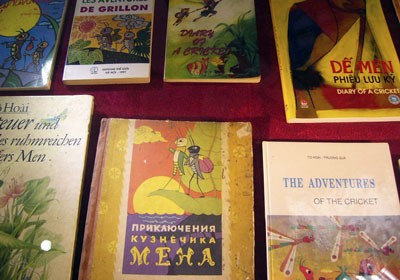 'Diary of a cricket' has been translated into many languages and is popular in 40 countries across the globe
Ever since the book was written 70 years ago, 'Diary of a cricket' has remained a hot favorite among all children's books in Vietnam. The story has already been translated into many languages like Russian, English, French, Japanese, Swedish and Khmer. At present it is in the process of being translated into the Korean language.
'Diary of a cricket' has not just remained within peripheral borders, hopping on the grass along the To Lich River, but has crossed national borders to touch the hearts of children in 40 countries in the world.
In 1941, 'Diary of a cricket' was published for the first time in a collection of 20 short stories by Tan Dan Publishers and immediately attracted a strong interest from young readers.
Vu Dinh Long, director of the publishing house then proposed to the author To Hoai, who was 20-years-old at that time, to continue to write the story about the cricket.
One year later, two volumes of the story were born, creating a landmark in the career of the young writer and in Vietnamese children's literature industry.
Writer Vu Ngoc Phan said that several authors have written animal stories but none have been as successful as this one by To Hoai.
Critic Pham Xuan Nguyen said, "the Cricket is seventy-years-old but he is still not old or tired. He is brimming with thirst to explore new worlds and face new challenges."