The Hanoi Department of Culture, Sports and Tourism has implemented a number of projects to preserve the city's intangible cultural heritages, including a project carried out from 2014-2015 to review the city's intangible cultural heritages and apply effective conservation methods.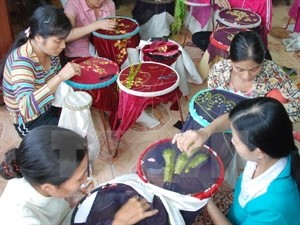 Women work on embroidery products at Quat Dong village, Hanoi's Thuong Tin village (Photo: VNA)
The sector will continue working to protect intangible cultural heritages fading into obscurity and those in urgent need of preserving.
According to Pham Thi Lan Anh, an official from the Department, the sector will focus on protecting the Trong quan singing in Phuc Lam village, Phuc Tien commune, Phu Xuyen district and Khanh Ha commune in Thuong Tien district by recording its lyrics and tunes this year.
Other practical activities will also be organised to raise community awareness of their heritages, such as publicity campaigns and mass media communication products.
Hanoi is home to more than 850 intangible culture heritages, including oral literature, performing arts, social customs, festivals and traditional handicrafts, n early 100 of which have begun to vanish .
Besides Trong quan singing, other heritages in urgent need of protection for not having been regularly practiced in communities include slang in Da Chat village, Dai Xuyen commune in Phu Xuyen district; Tuong co (traditional theatre opera) in Coc Thuong village, Chuong My district; wrestling in Thao Chinh village, Phu Xuyen commune, Phu Xuyen district; and embroidery and lacemaking in Binh Minh commune, Thanh Oai district.
According to Pham Van Nam, a cultural official from Phuc Tien commune in Phu Xuyen district, the locality has seen its traditional trong quan singing falling into oblivion. A very small number of local residents still practice it and those who do are all over 60 years old.
The loss of intangible culture heritages is attributed to quick changes in social environment and living style and modernisation.