Tran Minh of Hanoi won the first prize in a photography contest titled "Environment and the poor" with a picture of disadvantaged children in a village classroom titled Lop hoc vung cao (Upland classroom).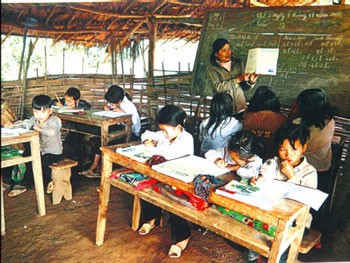 The photo titled Lop hoc vung cao (Upland classroom) by Tran Minh.
Second prizes went to Huy diet (Extermination) by Nguyen Hoang Hai of Hanoi and Xom nha san (Hamlet of poor people's houses on stilts) by Duong Cam of Ho Chi Minh City.
The organizers, the Vietnam Photographers' Association, also awarded three third prizes and five encouragement prizes and chose 91 pictures as reference material.
All the winners received their awards at a ceremony in Hanoi December 16.
The contest, launched three months ago, received more than 2,600 entries from 368 photographers around the country.
The contest was held as part of a Vietnam-Denmark environmental program and sought to raise people's awareness of environmental protection and the living standards of people, especially the poor and disadvantaged.