Huynh Hai Long, a graduate of the Hanoi University of Theater and Cinema, November 21 won the top prize worth VND50 million (US$2,500) at the Viet Nam Collection Grand Prix 2009, the largest national fashion design competition.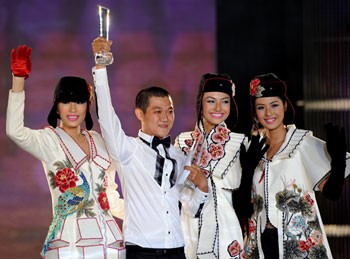 Huynh Hai Long (2nd L)and his wining designs at the award ceremony of the 2009 Vietnam Collection Grand Prix
The award ceremony of the 11th annual contest for young, up-and-coming designers was held at the Quan Ngua Sporting Hall in Hanoi.
Other awards including "Future Designer" and "Best Material" went to Vo Thi Quynh Nhu, 19, of Ho Chi Minh City. Nguyen Manh Hao, a graduate of the Hanoi University of Industrial Fine Arts, won the "Fashion Designer of the Year" and "Impression" titles.

The judging panel comprised well-known domestic and foreign designers including Francine Pairon, creative director at the French Mode Institute; Leslie Davis Burns, chair of the Design and Human Environment Department at Oregon State University (OSU); Valerie Bannister of the London College of Fashion (UK); and Minh Hanh, director of the Vietnam Fashion Design Institute (FADIN).