The Vietnam-South Korea Cuisine Festival 2012 will take place in Hanoi from November 2-4 to mark the 20th year since Vietnam and South Korea established diplomatic relations.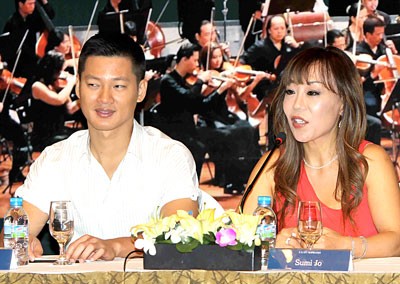 Duc Tuan (L) and Sumi Jo at a press conference in Hanoi
Nearly 50 stalls of Vietnamese and South Korean food businesses will introduce and sell outstanding farm produce of the two countries.
On October 26, the Gyeonggi Food Festival 2012 also opened in Hanoi to promote typical agricultural and seafood products of South Korea. This was one of the many events to mark the 20th anniversary of diplomatic relations between the two countries.
In related news, Sumi Jo, well-known international opera singer from South Korea, arrived in Vietnam on October 26 to prepare for a concert program titled 'Vietnam-South Korea Friendship'.
The concert will take place in Hanoi on October 27-28 to celebrate the 20th anniversary of diplomatic ties between Vietnam and South Korea.
Signer Duc Tuan from Vietnam will perform excerpts of semi-classical music and opera plays like the Beauty and the Beast, the Merry Widow and La Traviata.