The Vietnam Architects Association has recently begun a project to restore the Hang Dao – Hang Dau streets to preserve the special character of Hanoi architecture, as well as returning the ancient streets pictured by painter Bui Xuan Phai.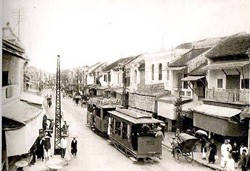 Hang Dao Street in Hanoi at the beginning of the 20th Century (File photo)
This is just one among numerous projects that the city's authorities have carried out to welcome 1,000 years of Thang Long – Hanoi.
Bui Xuan Phai is a famous artist with pictures about Hanoi's ancient streets. In his works, old Hanoi streets are drawn with unsteady tile roofs with a brown color.
Successfully reproducing such images of ancient houses in artist Phai's pictures will contribute in developing the values of Hanoi's ancient streets.
Architect Ngo Doan Duc, from the association, said that the project's first phase, lasting until September 2010, will repair one kilometer of roads of Hang Dao, Hang Ngang, Hang Duong, Dong Xuan, Hang Giay, and Hang Dau Street.
Then, houses along two sides of the street and urban scenery in this area will be upgraded and restored.
The project will simultaneously build better streets and pavements and deal with traffic and advertising boards.
After completion, the area will have beautiful and civilized walking streets, which will contribute in preserving the city's cultural and historical values, as well as developing trade and tourism.