The People's Committee of Ba Dinh District in Hanoi have announced that the famous One-Pillar Pagoda, the most iconic monument in Hanoi, will be upgraded at a cost of VND14 billion, along with the surrounding courtyard, main edifice, lake and pathways leading to it.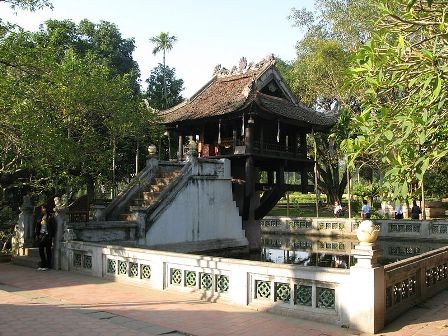 One-Pillar Pagoda, the most iconic monument in Hanoi
The project is expected to be complete by mid 2014.
The Asian Book of Records has recognized the Mot Cot Pagoda (One-Pillar Pagoda) as the most unique architectural structure in Asia, the first record in Vietnam in the category of religion in 2012.
This outstanding architectural structure is said to be built by King Ly Thai Tong in the 11th century and was given the name 'Dien Huu' meaning 'Eternal Blessing'. In later years people began to call it the Mot Cot Pagoda, particularly for its structural shape.
In 1954, the original pagoda destroyed. Over the years, the Ministry of Culture has been restoring the pagoda to its present shape as it stands today.
The restored pagoda is smaller than the original, but still retains its unique architecture.
At present the pagoda looks quite run down, with water sometimes leaking from the roof after a rainfall.