Twenty nine year old Bui Tuan Anh of Hanoi was the last man standing on Monday evening after the final round of the Master of Ceremonies (MC) 2008 contest.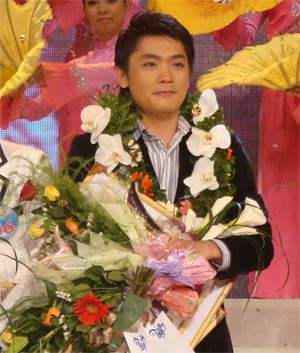 "Golden Swallow 2008" Bui Tuan Anh
Tuan Anh received the "Golden Swallow" award which carries a cash prize of VND30 million (US$1,800) and two mobile phones Bavapen B-P800 and B600 worth VND4.3 million (US$257).  
The Hanoian also pocketed the "The Most Emotive Voice" award, doubling his tally of mobile phones and adding VND5 million (US$300) in cash to his kitty. 
The Silver Swallow prize was claimed by Phu Yen's woman Ngo Nhu Quynh , while the Bronze Swallow prize went to two winners – Dong Thap's To Huynh Phuong Hieu and Kien Giang's Duong Thi Tuyet Vinh.  
Nhu Quynh received VND20 million (US$1,200) in cash while Phuong Hieu and Tuyet Vinh got VND10 million (US$590) each with the twin mobile phones added on. 
Nhu Quynh triumphed over her competitors for the "The Favorite Contestant of the Press" award with a cash prize of VND5 million (US$300) and another set of two mobile phones. 
The HTV Master of Ceremonies is an annual contest held by the Ho Chi Minh Television Station (HTV) and the Cat Tien Sa Company. The contest helps HTV locate fresh talent to compere new programs. 
This year, Lien A Foam company was the main sponsor of the contest.
Related articles:
Compering Competition Enters Final Round
HTV to Hold Master of Ceremonies Contest