Hanoiologist and Han-Nom researcher Vu Tuan San was honored for his great contributions to the city of Hanoi with the "Bui Xuan Phai- Love for Hanoi" grand award in the capital on August 28.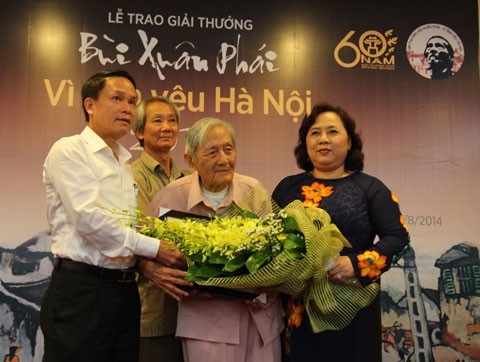 Hanoiologist and Han-Nom researcher Han Nom Vu Tuan San (C ) was honored with the "Bui Xuan Phai- Love for Hanoi" award 2014. (Photo: Sggp)
He is acknowledged as a founding father of the research on Thang Long-Hanoi.
Besides Vu Tuan San, other authors were also conferred with Bui Xuan Phai awards.
The Work Awards Category of 'Bui Xuan Phai-Love for Hanoi' was granted to researcher Tran Hau Yen The for his book on Hanoi's ancient streets and Uruguayan Martin Rama for his collection of photographs of Hanoi, published in his book "Hanoi Promenade".

The Job Awards Category belonged to a group of people who collected and organized photo exhibition titled ""Hanoi colors 1914-1917". The display which was held in Hanoi earlier features 60 pictures of Hanoians and their daily life from 1914 to 1917.

The Idea Awards category went to "Hanoi Fly – Lens above Hanoi" project by the Ashui.com + Hanoi Lovers group, who produced a video of Hanoi from above and presented to the community.

Established in 2008, the awards are named after painter Bui Xuan Phai (1920-1988), the founder of modern art in Vietnam. He is known for his paintings of Hanoi's old quarter, landscapes and young women. His works are displayed in several national and international museums. He received the highest national award, the Ho Chi Minh Prize, posthumously in 1996.