Around 110 calligraphers will gather in 110 tents erected inside Van Mieu – Quoc Tu Giam (the Temple of Literature) in Hanoi on Tet holidays.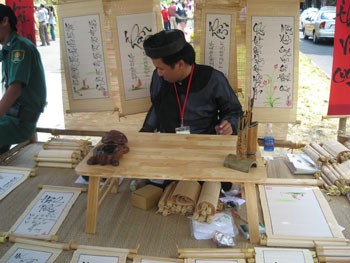 A calligrapher in a spring festival on Tet holidays (Photo: KK)
The calligraphers who passed a qualifying test to join the event will wear traditional costumes, writing and selling nice words in calligraphy to customers.
Along with the calligraphy writing activities, a calligraphy exhibition featuring 100 calligraphy works by famous calligraphers will be held.
Buying calligraphic works is one of the indispensable Vietnamese New Year traditions which is believed to bring purchasers good luck and prosperity.
Calligraphic works are used Vietnamese, Chinese, English and others languages; and written in a special kind of ink and with a brush.
The event will take place from the 24th of the current lunar year to the 8th of the lunar New Year's first month, or February 2-15.