The internationally famous 'ceramic road' running along the Red River in Hanoi has now begun to show signs of damage and decay.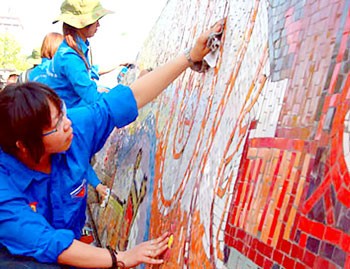 Young voluntees clean up the ceremic road. (Photo: SGGP)
Journalist and painter Nguyen Thu Thuy, who initiated the project, says that uncertain weather conditions during both summer and winter could be one of the reasons that have damaged the ceramic road.
After the road was recognized as the longest pottery mural in the world by the Guinness Book of World Records last September, there was a lot of pressure on organizers to implement a restoration project for the road. It took four years of meticulous preparation to carry out the project, which began at the end of 2007.
Tan Ha Noi Company that implemented the road project usually maintains the road in good shape. However, painter Thuy believes public awareness is more important than weather.
A section of the road near Long Bien market is littered with garbage. Public awareness contributes a lot to the success of the preservation work of the road.
"Ceramic road along the Red River" was a project to upgrade and maintain 6,000m of the dyke along the river to commemorate the city's 1,000th anniversary in 2010. The road has ceramic pottery patterns as murals that were popular during the Dong Son, Ly Dynasty, Tran Dynasty, Le Dynasty and Nguyen Dynasty eras.
The mural is also decorated with traditional architectural designs of Vietnam's 54 ethnic groups, paintings of Hanoi, of children and of local and international artists.
Images of some Hanoi icons like the One Pillar Pagoda, The Huc Bridge, Khue Van Cac Pavilion in the Temple of Literature are also part of the road project work.
The project has inspired international artists like Joel Bennett of the US, Michael Geertsen of Denmark and Dominique de Miscault of France to participate.