An exhibit, "Bui, xe mo bong pho Ha Noi" (Dust, Bikes and Dim Streets), will bring a new view about Hanoi in the past and the present via an arrangement by young artiste Bang Nhat Linh. The exhibit will open at the Viet Art Center (42 Yet Kieu, Hanoi) on September 5.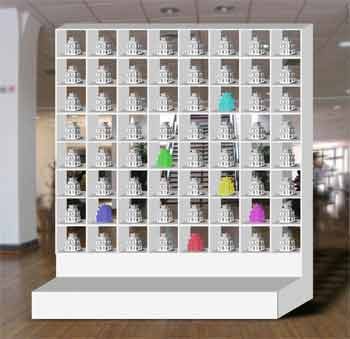 The tortoise towers on the shelf at the exhibit, which will open from September 5 to 9 at the Viet Art Center, Hanoi (Photo: Courtesy of CDEF)
According to the artiste, his exhibit is inspired by his thoughts over whether present Hanoi is more beautiful than the Hanoi that he knew in the past.
"Like the dust that keeps flying in the air, the city never stops its development and evolution. The present Hanoi is very different to the one that I knew while I was studying at university. In addition, it's more different to the one during my middle school years and completely different to the one of my childhood.
"The city is becoming larger and larger. But, is it more beautiful than the one in the past? To me, my exhibit is a way that I can express the contradiction between the past and the current city," the artiste confided,
The exhibit features five works inspired by 'arrangement art.' They are the hundred mini tortoise towers made of plaster on a shelf; a bike stuck onto the wall; a photo collection featuring contrary views between a beautiful past city and a crowded and dark city in the present; an urban tower shaped by use of some of Hanoi's traditional coal cookers; and a photo which overlaps Hanoi's past with the present.
Visitors are encouraged to paint the tortoise towers. The artiste said: "Please come to the exhibit, choose a color and paint one of the tortoise towers on the shelf. Return it to the shelf when you finish. That's the way you choose your own color for Hanoi."
Bang Nhat Linh, 26, had his early steps in the exhibit of 'arrangement art' during his undergraduate years from 2002 at the Vietnam Fine Arts University. After graduating in 2005, he started creating many new ideas about arrangement art.
The exhibit over September 5-9 is sponsored by the Cultural Development and Exchange Fund from the Danish Embassy.