Together with troupes nationwide, Hanoi's theater troupes will present six plays for the 2009 National Dramatics Festival, to take place from September 26 to October 6 in HCM City.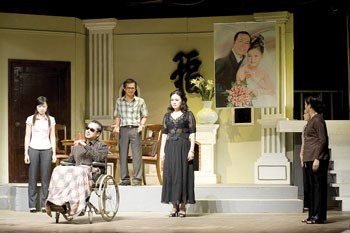 A scene in the play titled Mat pho (Eye of the streets) of the Hanoi Drama Theater.
Vietnam Drama Theater invited "Meritorious Artiste" Tran Ngoc Giau, a well-known and experienced director in HCM City, to direct the play Tren ca troi xanh (Over the Blue Sky).
Another drama is My nhan va anh hung (Beauty and Hero) by "People's Artiste" Le Hung, director of the Vietnam Dram Theatre. It is a story about the great tutor Tran Thu Do who was the founder of the Tran Dynasty, who personally ruled from 1226 to 1264.
Mat pho (Eye of the Streets) directed by "People's Artiste" Pham Thi Thanh and Dien thoai di dong (Cellphone) by "People's Artiste" Hoand Dung are works presented by the Hanoi Drama Theater. The stories tell about the burning questions of the day in the capital.
The Hanoi-based Youth Theater will introduce Kieu Loan (name of a beautiful woman) and Ai so ai (Who is Afraid of Who?).
Hanoi has been regarded as a cradle of Vietnamese dramatics for 90 years. However, HCM City's troupes have been developing their acts, while Hanoi's stages have seen a drop in theatre goers.
A lack of young actors and actresses and a fall in audience figures concern the capital's troupes, leading to an uncertain future.
In addition, Hanoi's stages rely on Government subsidies, with a little capital provided in dribs and drabs, said Meritorious Artist Chi Trung.
The 2009 National Dramatics Festival will be attended by 19 State-owned and private theaters, featuring 27 dramas, and is organized by the Department of Performing Arts; Vietnam Stage Artists Association; and HCM City's Department of Culture, Sport and Tourism.