The Fahasa Book Distribution Company has thousands of copies of Harry Potter and the Deathly Hallows sitting in its Ho Chi Minh City warehouse in readiness for tomorrow's worldwide release of the seventh and final story of JK Rowling's famous Harry Potter series.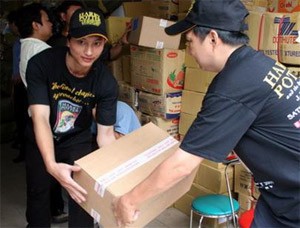 The 10,016 copies of "Harry Potter and the Deathly Hallows" arrived in Viet Nam.
The 10,016 copies arrived in Viet Nam on Wednesday, and nearly half were immediately dispatched to all corners of the country.
Fahasa's general director, Pham Minh Thuan, points out that this is well over three times the number of copies of the sixth Harry Potter novel that his company imported in 2005. Those 3,000 copies sold out very quickly.
Besides the new book, Fahasa has stocked up on Harry Potter T-shirts, hats, posters, bookcases, book baskets and other merchandise, and received thousands of orders from the boy wizard's fans.
Everything is ready for the book's Vietnamese launch at 7am this Saturday at the Nguyen Hue bookstore in the center of Ho Chi Minh City.
The event at 40 Nguyen Hue Boulevard will be attended by representatives of Bloomsbury Publishing and the British consul general along with a mass of readers.
Youth Publishing House and the Christopher Little Literary Agency, Rowling's British publisher, have reached an agreement on translating the children's edition into Vietnamese.
Translated as before by the writer Ly Lan, the local version is scheduled for release in mid-October.


Related article:
Viet Nam to See Simultaneous "Harry Potter and the Deathly Hallows" Release