The chairman of HCMC People's Committee, Le Hoang Quan, met with Ha Giang Province officials September 17 to discuss the Vietnam Rice Festival, to be held from November 26 to 30.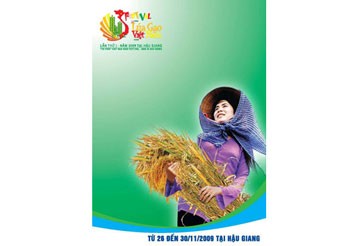 2009 Vietname Rice Festival poster
The festival aims to honor farmers and Vietnamese rice, as well as enhance its position on the world market.

The event also encourages production and exports, contributes to socio-economic development and raises living standards, said Truong Thanh Phong, chairman of the Vietnam Food Association (VFA) and deputy head of the festival's organization committee.

The 2009 Vietnam Rice Festival will take place along the Xa No Canal, regarded as Hau Giang's 'rice road.' Many stores were established there to keep thousands of tons of rice for export by French colonialists in the first years of the 20th century.

The festival is a significant socio-economic event to attract domestic and foreign visitors, especially rice traders to Hau Giang Province.

Many seminars on water-rice cultivation and mode of production to promote the quality and trademark of Vietnam rice to the world market will be opened during the festival, said Trinh Quang Hung, deputy chairman the province's People's Committee and head of the festival committee.

The event will also include exhibitions of rice, rice seeds, farm equipment and rice processing machinery and inauguration of a rice trading floor.
It will feature cultural activities, such as folk games and performances of traditional music.

A giant rice pot and nine oversized pans of banh xeo (rice pancake) will be attempted in order to break their respective Vietnamese records.

The festival is organized by the province, in coordination with the Standing Southwest Steering Committee; ministries of Industry and Trade, Agriculture and Rural Development; the Vietnam Food Association (VFA); Vietnam Southern Food Corp., and other relevant Ministries and Mekong delta provinces.

To date, nearly 200 local and foreign businesses have registered to participate at the event. The festival is scheduled to be held every two years.