Veterans and devotees of Don Ca Tai Tu (Southern folk music) in the city are so glad to see a young generation interesting in traditional music.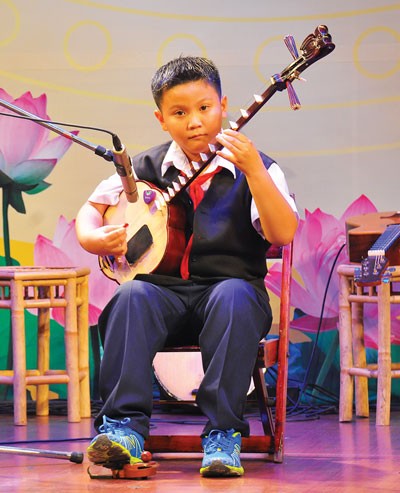 Le Minh Khoi wins golden Medal at Hoa Sen Vang (Golden lotus) Don Ca Tai Tu Award in Ho Chi Minh City in 2015.

Huynh Trieu Phu, 11, gave a deep impression to audiences with his strong, deep and rich voice at the Don Ca Tai Tu (Southern folk music) festivals.

He won the silver prize at the Ho Chi Minh City Don Ca Tai Tu Festival and the A Prize at the Don Ca Tai Tu Festival in Long An Province in 2015.

Phu was introduced to cai luong singing when was the 3rd grade student and has a passion for this kind of traditional music.
Meanwhile Le Minh Khoi, 10, from Long An province can sing and play skillfully Dan Sen (two-string lute), a popular Vietnamese traditional musical instrument which is used in the South.

Khoi was born and grew up in a family that has loved folk music. He also fell in love with it  for the age of 8.
Khoi won a Golden Medal at Hoa Sen Vang (Golden lotus)  Don Ca Tai Tu Award in Ho Chi Minh City in 2015.

Young talents are also Tran Thi Yen Nhi of District 12, Cong Tuyen, Pham Thi Kha Thy,  Phan Thi Ngoc Chau and of Cu Chi District, Nhut Duc of Binh Chanh District, Bao Ngoc of District 2, Huynh Pham Ngoc Tran and others aged 5-12 years.
Insiders hope to keep the tradition of Don Ca Tai Tu alive in the community and will foster love for  the Southern folk music among the young people in the south, besides discovering and training more young talent.
The Ho Chi Minh City Cultural Center , the Conservatory of Music and the Department of Education and Training have jointly organized more than 100 performances of traditional music in schools throughout the city. The event which is part of the "Bringing Vietnamese traditional music to school" program aims to preserve and develop the value of Don Ca Tai Tu.
The business and financial hub of Vietnam is the first city to host Don Ca Tai Tu (Southern folk music) festival for children in 2016.
Deputy director of the Department of Culture and Sport of Ho Chi Minh City, Nguyen Van Minh said that the 2015 Don Ca Tai Tu and Vong Co Song Composition Contest received over 300 works from 200 musicians nationwide.

In Ho Chi Minh City, there are 300 Don Ca Tai Tu clubs and groups with more than 3,000 members, most of who are singers, musicians, composers, and or researchers. They often perform at local cultural houses and popular venues like the Municipal Youth Cultural House and the Labor Culture Palace.
UNESCO's recognition of Don Ca Tai Tu Nam Bo as an Intangible Cultural Heritage of Humanity brings deep pride to devotees. The southern amateur traditional music, was recognized for the prize at the 8th Session of the Intergovernmental Committee for the Safeguarding of Intangible Cultural Heritage held in Baku, Azerbaijan on December 2013

The southern traditional music style has been honored because it is a legacy passed through generations to recreate cultural exchanges of ethnic groups, according to experts in UNESCO. It has been a long-standing cultural tradition in the Mekong Delta since the end of the 19th century.
Don Ca Tai Tu Nam Bo meets the criteria because it is passed down through generations in southern provinces, re-creates via cultural exchanges, presents a concord and respects among ethnic groups, according to the Department of Cultural Heritage.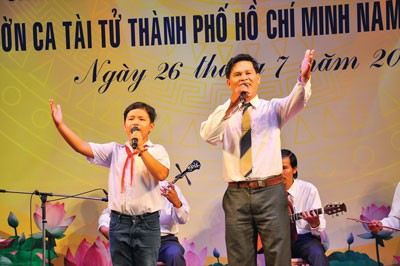 Amateur cai luong singer, Van Tai (R) and Huynh Trieu Phu