The 20th World Police Music Festival will be held in Ho Chi Minh City from November 14-15 after the 16th successful event in Hanoi in 2011.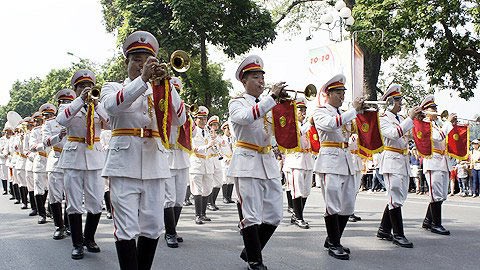 The 16th World Police Music Festival is organized in Hanoi in 2011.
Military art troupes from New York, Singapore, Tokyo, Osaka and Vietnam will participate in the event.

The opening ceremony will take place at 8 a.m. in the front of the municipal Opera House in District 1 on November 14. Groups then will join a parade along the main streets, including Dong Khoi, Ton Duc Thang and Nguyen Hue.

Special concerts will be organized at Hoa Binh Theater in District 10 at 2 p.m. on November 15.
The festival aims to celebrate the 40th anniversary of the southern region's liberation and the country's reunification; the 10th Congress of the Ho Chi Minh City Party Committee, and the 9th Congress of the Central Police Party Committee.

The festival is co-organized by the Vietnamese Ministry of Public Security and the Mainichi Shimbun, one of the major newspapers in Japan.

Launched in 1996, the annual World Police Music Festival was initiated by Japanese Mainichi Daily News. The event has been held in a number of countries including Japan, France, Spain, Germany, the US, the Netherlands, Singapore and Indonesia. The World Police Music Festival aims to strengthen relationship among countries and the police forces worldwide.